Back
How To Have A Heartfelt Money Talk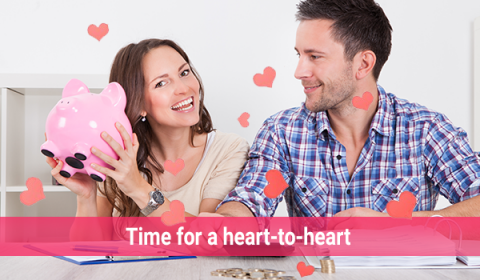 7 out of 10 couples report that money causes tension in their relationships[1]
Depending on your relationship status, or the state of your relationship, Valentine's Season can set the heart aflutter or get your teeth grinding. For many couples, it's also a day when how you both approach your finances can result in loved-up bliss or recriminations and regret. Perhaps one of you is anticipating fine dining, roses and champagne, while the other thinks a card, supermarket carnations and a pub meal is more than enough romance.
Money may not buy you love but being on the same page about it has, for a long time, been seen as a critical factor to relationship harmony. In 2011, research by Relationships Australia showed that financial stress is one of the leading causes of relationship stress and even breakdowns. The research also concluded that disagreements over money was one of the strongest predictors of divorce.
Despite this, we're surprisingly unwilling to talk to our partners about dollars and sense. A national survey of the attitudes of 1500 Australians to money by Suncorp revealed that 50 per cent of us believe that money talk is taboo, and as many as one-third of us avoid talking about our salary with our partner. Apparently, we'd rather talk about religion or politics than discuss our spending habits. 
Talking about your finances might not seem like the sauciest subject, but making sure you're in synch about spending, saving and your future financial goals can only make your bond stronger.
Because such conversations are far more enjoyable over candlelight and a bottle of red, why not book a date night where you sit down and map out a financial game plan together? Doing this regularly could help keep both your bank balance and love life thriving. 
A checklist of topics to get you started…
What are your top financial goals for this year? Is it becoming debt free? Saving for a first-home deposit? Smashing the debt on your existing home loan or building up an emergency savings buffer?
Should you be saving or paying down debt? Work out what your combined debt is and consider how can you pay it down faster. Ridding yourself of unnecessary debt is the first key step toward freeing yourselves up to conquer bigger financial goals.
Do you know your partner's credit score? Because it's such a key indicator of financial health, it's important to be aware of any issues that might affect your credit score and how it may impact your future plans together.
If either of you have credit issues that need addressing, now is the time to work out how to fix them. Brainstorm some ways you can improve your credit score starting today. These include paying your bills on time, reducing unnecessary credit applications, and regularly reviewing your credit report for any suspicious activity.
Being on the same page is important, and never less so than in love. Knowing your credit score is a critical part of keeping your finances on track. Make it a habit to regularly monitor your credit score, so you can start having heart-to-heart conversations about your money.
Disclaimer: The information contained in this article is general in nature and does not take into account your personal objectives, financial situation or needs. Therefore, you should consider whether the information is appropriate to your circumstance before acting on it, and where appropriate, seek professional advice from a finance professional such as an adviser.
[1] Woolcott Research, 2011, Issues and concerns for Australian relationships today, available at https://www.relationships.org.au/what-we-do/research/australian-relationships-indicators/relationships-indicator-2011 
[2] Money Talk is Still Taboo, Suncorp Research Group, 23 August 2018
https://www.suncorpgroup.com.au/news/features/money-talk-is-still-considered-taboo