Back
Spending, Shopping and Saving Post Lockdown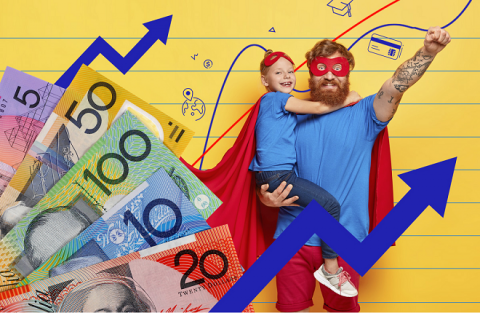 Lockdowns left many Australians with little choice but to save on things such as eating out, commuting to work, and holidays away. As a result, many of us now have extra cash in our bank accounts. How will you manage your finances over the holiday season? Are you looking to spend more, save or strike a balance between the two?
Some economists are predicting that household savings accumulated during restrictions could fuel a post-lockdown spending spree, with a big return to consumer spending, particularly in the hospitality and travel industries. It is hoped this will help drive Australia's economic rebound. 
Lessons from the pandemic
However, if the pandemic has taught us anything, it's the importance of some age-old financial advice – build up an emergency savings fund, make a budget, and have a financial plan that includes room for the unexpected.
Data from the ABS released at the start of September showed that household saving has already decreased – from 11.6% to 9.7% in the June quarter. However, a survey by the Financial Planning Association of Australia found that amongst the biggest changes made in response to the pandemic, the number one change people reported was to 'be more frugal about my lifestyle choices' (44.7% in 2021 vs 30.8% in 2020).
How to make a financial plan
If you decreased your spending and increased your saving during COVID restrictions, now is the perfect time to check in on your financial health and make a plan before your splurge.
With many more opportunities to spend suddenly available, temptation is rife. But it's worth considering what any extra savings could do to boost your financial future. Not to mention, the impact that overspending could have on your credit health. Check your credit score for free to see how you're tracking with your credit health.
Some good questions to ask yourself are:
How much did I save during lockdown?
What are my top financial goals and could these savings be put toward them?
What did I miss the most that I want to prioritise spending on?
Are there things I learned I can happily do without?
Lockdown savings habits to keep
We all have different priorities when it comes to what we value spending on the most. Some may have been desperate to get back to the gym, others the pub. But maintaining these lockdown habits could boost your savings long-term.
Home cooking : Many people discovered that they quite enjoyed cooking at home or didn't need to get takeaway quite as often. Maintaining some of those home cooked meals is an easy way to save weekly.
Low cost workouts : Did you discover some new at-home workout videos or find that you loved running outdoors? Maybe you spent more time walking the dog than working out. Consider putting that monthly gym membership or yoga class pass toward a savings goal instead.
Less shopping : Maybe you, like many, did more online shopping during lockdown but you probably saved on spontaneous spending in-store. Make a budget for spending on things like new clothes and see if you can direct that cash elsewhere.
To-do before you spend
If you have debts with high interest rates, such as credit cards, it's important to pay these down before you return to post-lockdown spending. Too much debt or missing your bill payments can have a negative impact or your credit score and therefore your financial future. Understanding the key contributing factors to your credit score can help you prioritise which debts you may need to tackle the most.
Keep on top of your Credit Score and learn about the Key Factors Influencing Your Score - Log in now
Disclaimer: The information contained in this article is general in nature and does not take into account your personal objectives, financial situation or needs. Therefore, you should consider whether the information is appropriate to your circumstance before acting on it, and where appropriate, seek professional advice from a finance professional such as an adviser.