Back
New Year's Financial Check List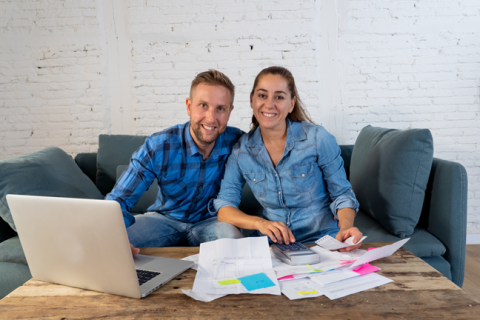 Get your finances back on track after the festive season with these smart strategies for the new year.
The fun and good times that the festive season brings can also take a toll on our finances and credit card debt. Last year, Australians spent $51.4 billion dollars collectively on their holiday spending1. While there are signs that our spending may be curtailed somewhat this year by fears about the economy, many will still fight the urge to splurge. Those aged 35-44 are expected to spend the most at an average of $570 per person1.
Prevent holiday spending from having a long-term effect on your finances and credit score with these smart strategies that can set you up for 2020.
 
Take stock
Is it time you learned how to start adulting with money? The first step is knowing the lay of the land. Set some time aside to assess your assets, debt, income and cash flow, so that you can identify any problem areas. Financial goals aren't static and are likely to change year-on-year. You may find an old investment is no longer serving your goals or that you want to take advantage of new opportunities and market conditions, such as the current low-interest rate environment.
Get organised
There's nothing like trying to organise paperwork in a rush come tax time to show you if you have kept an efficient record-keeping system. If not, set up one now that you can easily stick to each week. Create a spreadsheet to record and add up all of your deductions throughout the year or download an app that lets you scan and store them on the go, making life super easy come tax time.
Prioritise paying down debt 
Hopefully you've managed to avoid the festive debt squeeze, but if not, or if you have other significant debt, it's time to get on top of it. Paying off debts with high interest rates should always be your number one priority. Explore ways you can pay off your debt faster, such as researching more competitive products, refinancing your mortgage or consolidating your debt.  
Give yourself a fiscal health check
You may go to the gym regularly, take yoga classes or even work out with a personal trainer, but when was the last time you did a credit health check? The time investment is well worth it to identify and tackle areas that will help improve your credit score, which has many benefits for your financial future. 
Build a savings buffer
Our 'tap and go' culture can make it all too easy to spend without thinking. Consciously saving a small, regular amount from foregoing something you can easily do without could be the key to building your savings. A rainy-day fund can prevent you from running up debt in the event of unforeseen circumstances such as illness or temporary unemployment. A $4 daily latte adds up to over $1000 per year. Taking your lunch just one day a week could save you $500 a year. Direct that cash into a long-term savings account or investments instead. There are even some great apps out there that will automatically do it for you. Check out what products your financial provider has on offer. 
 
Revisit and Update Your Budget
Taking stock of 2019's finances and spending can help you create a realistic budget for the year ahead. If you're having trouble creating and keeping to a budget, try downloading one of the many available money-tracking apps and recording all of your spending into it for at least a month to see where your cash is actually going. Then use an online budget calculator to create a budget with the data you've gathered.
Disclaimer: The information contained in this article is general in nature and does not take into account your personal objectives, financial situation or needs. Therefore, you should consider whether the information is appropriate to your circumstance before acting on it, and where appropriate, seek professional advice from a finance professional such as an adviser. 
1 Source: Mozo.com.au: Hold your reindeers! 1 in 4 Aussies plan to pull the reins in on Christmas spending - Published online on November 25, 2019.