Back
Here's Your 2022 Financial Plan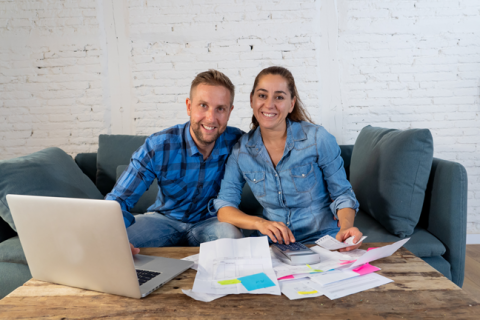 Start the new year off right with a financial plan
Here's how to get on top of your finances in 2022, discover smart strategies today.
Get 2022 off to a cracking start with these smart strategies for the new year.
There's no doubt that it's been a tumultuous couple of years and no one is totally sure what lies ahead. In periods of uncertainty, shoring up your financial security and well-being can provide comfort that you have the means to weather any storms that may come. 
Here're our top tips for making sure your finances and credit health are on track in 2022. 
Take stock of where you're at 
The first step is understanding where you're at. Set some time aside to assess your income, expenses and debt so that you can identify any problem areas. Financial goals aren't static and are likely to change year-on-year. You may find an old investment is no longer serving your goals or that you want to take advantage of new opportunities and market conditions, such as the current low-interest rate environment. It's time to start adulting with money.
Get to know your credit score
Do you know what your credit score is? Your credit score is a key component of your financial well being because it enables you to achieve major financial goals, such as buying your first home. We've made it easier than ever to understand what's driving your credit score and how to improve it. Your GetCreditScore Credit Overview now displays the Key Contributing Factors driving your score. This valuable information gives you greater insight into what's impacting your credit score - and how you can influence and boost it.
Protect your identity
Sadly, identity crime has been on the rise during the COVID-19 pandemic. Being aware of how not to fall victim to ID theft is more important than ever. Monitoring and protecting your credit score alerts you to any problems quickly so that you can act fast. The Equifax Ultimate Package helps you manage and protect your credit profile and your identity. It allows you to regularly track your Equifax Credit Score and receive Credit Alerts if certain changes appear on your Equifax Credit Report, such as payment defaults or a new credit enquiry, which can help alert you quickly to any suspicious activity. 
Get organised
There's nothing like trying to organise paperwork in a rush come tax time to show you if you have kept an efficient record-keeping system. If not, set up one now that you can easily stick to each week. Create a spreadsheet to record and add up your deductions throughout the year or download an app that lets you scan and store them on the go, making life super easy come tax time.
Prioritise paying down debt 
Hopefully you've managed to avoid the festive debt squeeze, but if not, or if you have other significant debt, it's time to get on top of it. Paying off debts with high interest rates should always be your number one priority. Explore ways you can pay off your debt faster, such as researching more competitive products, refinancing your mortgage or consolidating your debt.  
Give yourself a fiscal health check
You may go to the gym regularly, take yoga classes or even work out with a personal trainer, but when was the last time you did a credit health check? The time investment is well worth it to identify and tackle areas that will help improve your credit score, which has many benefits for your financial future. 
Build a savings buffer
Do you have an emergency fund? Our 'tap and go' culture can make it all too easy to spend without thinking. Consciously saving a small, regular amount from foregoing something you can easily do without could be the key to building your savings. A rainy-day fund can prevent you from running up debt in the event of unforeseen circumstances such as illness or temporary unemployment. 
Saving $10,000 a year may seem like a challenging goal to achieve, however you would only need to save $27.40 a day. Direct that cash into a long-term savings account or investments. There are even some great apps out there that will automatically do it for you. Check out what products your financial provider has on offer. 
Revisit and Update Your Budget
Taking stock of 2021's finances and spending can help you create a realistic budget for the year ahead. If you're having trouble creating and keeping to a budget, try downloading one of the many available money-tracking apps and recording all of your spending into it for at least a month to see where your cash is actually going. Then use an online budget calculator to create a budget with the data you've gathered.
Disclaimer: The information contained in this article is general in nature and does not take into account your personal objectives, financial situation or needs. Therefore, you should consider whether the information is appropriate to your circumstance before acting on it, and where appropriate, seek professional advice from a finance professional such as an adviser.