Back
Avoiding the Festive Debt Squeeze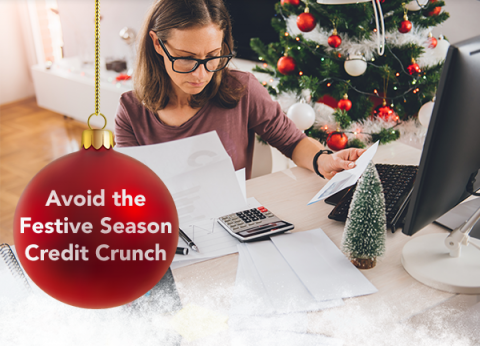 Ho, ho, ho. 'Tis the season to be jolly and, for many of us, to spend, spend, spend…
Here're some smart ways to have a fab, fun festive season while avoiding a debt hangover that could impact your credit score.  
According to research by the Commonwealth Bank1, Australians spent an estimated $10.7 billion last year on their festive shopping. Millennials were the most generous age demographic with 85% reporting that they planned to spend up to $1000 on gifts. NSW and ACT residents were the biggest spenders by state, spending $637 per person on average.
It feels great to lavish gifts on your loved ones during the holidays. Unfortunately, when these costs are charged to credit cards, as they all too frequently are, the debt hangover can linger for months once you factor in interest.
Accruing too much debt can have a negative impact on your credit score, not to mention your stress levels. With that in mind, here are some easy ways to stay debt free these holidays.
Set your budget in advance
Calculating what you can afford to spend ahead of the hectic holiday crush is a great way to avoid budget blow out. Set aside some time to work out your budget, starting with the big-ticket items, such as major holiday costs (flights, accommodation etc), and working all the way through to gifts, decorations, food, and entertainment.
There are many online tools that can help you create a budget, and then it's a matter of tracking what you spend – write it down in a notebook or spreadsheet, track it through your online banking, or use one of the many free or paid spender tracker and money management apps available to download on the App store and Google Play.
Splash your cash, don't flash your plastic 
The single best way to avoid running up excess credit card debt is simply not to use your credit card in the first place. Ideally, set up a dedicated holiday account and deposit the funds you've budgeted for the season in it. Then, use this account, and this account only, for all your festive purchases, whether you're shopping online or withdrawing cash to hit the shops.
Top up your credit card
Paying down your existing debt as much as possible now will help take the sting out of any unavoidable post-holiday debt. If possible, make extra payments by prioritising your debt above other discretionary spending to help bring it back down to zero balance. While you're at it, check out these smart ways to get out of debt faster.
Pay your bills first
Remember that paying your bills on time is one of the positive credit behaviours that can affect your credit score. If you haven't done so already, set up automatic bill payments and make sure your essential bills are paid before you do any holiday shopping.
 
Resist impulse spending 
It's oh so easy to get caught up in the spirit of the season and overspend, especially when you've enjoyed a festive spirit or two. Make a firm pact with yourself now that you'll think about any purchase that costs more than $100 for at least 24 hours before committing, particularly if it's not in the holiday budget.
Shop online and search for sales
Avoiding impulse buys can also be easier from behind the safety of your computer. Arm yourself with a list of exactly what you're looking for and then go in search of bargains online.
 
Hack your gift list
Get creative and think outside the (overpriced) gift box. Think quality not quantity, handmade over purchased, and clever ways to give your loved ones something thoughtful that doesn't cost the earth, such as DIY vouchers for cleaning, meals or baby-sitting services. Scouring second-hand stores can also unearth bargain gems.
A good credit score has many benefits, so don't let holiday overspending affect yours.
Disclaimer: The information contained in this article is general in nature and does not take into account your personal objectives, financial situation or needs. Therefore, you should consider whether the information is appropriate to your circumstance before acting on it, and where appropriate, seek professional advice from a finance professional such as an adviser.
1Source: 2018 Commonwealth Bank Christmas Consumer Spending Study. The study was undertaken by ACA Research in November 2018. Results are compiled from an online survey of 1,044 Australians 18+, with quotas set based on the latest population estimates sourced from the Australian Bureau of Statistics. https://www.commbank.com.au/guidance/newsroom/christmas-consumer-budget-and-spending-2018-201812.html