Back
Positive vs Negative Credit Behaviours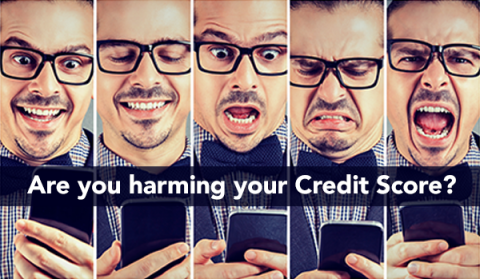 Last month we updated you on the latest changes to Comprehensive Credit Reporting (CCR) and how this is likely to impact your credit score. In a nutshell, this new scheme is likely to bring about positive benefits to consumers by requiring banks and lenders including the 'Big 4' (CBA, ANZ, Westpac and NAB) to report more positive consumer credit behaviour to credit bureaus such as Equifax.
Previously, Australia had a credit reporting system that was based on reporting only negative credit behaviours. By reporting more positive behaviours too, lenders will get a fuller picture of you as a borrower and will be able to tailor their offers to better suit you.
But what's the difference between Positive and Negative credit behaviours, and why does it matter?
Positive credit behaviours
Positive behaviours, such as paying your loan on time, can indicate to lenders that you're a safer bet for a loan. The more you can demonstrate this on your credit report, the more likely these will help to positively influence your credit score, and the better your odds of securing the home loan or other credit you need.
Thanks to the introduction of CCR, two new sections have been added to the credit information banks are required to share with credit bureaus. The first is your repayment history for the last two years, for some of your credit accounts, including your home loan, any credit cards you may have and any personal loans. This allows lenders to better assess whether you are likely to meet your repayments on time.
The second new category is your personal credit liability, which includes information about your credit accounts, the different types of credits you have access to, the names of your credit providers, and your current credit limits.
The new positive credit behaviours these categories can capture and return to prospective lenders include:
A history of meeting your monthly loans repayments on time.
Your type and level of credit exposure, which may include fewer credit accounts or drawings lower than credit limits.
Your ability to manage and use a range of credit products generally
Negative credit behaviours
The reporting of negative credit behaviours will not really change with the introduction of CCR, though overdue accounts details will now be available. These negative behaviours are ones that you always want to avoid, as they are likely to negatively impact your credit score:
Too many credit enquiries (especially in a short space of time)
Overdue payments
Defaults on payments
Court judgements
Bankruptcies
Other serious credit infringements
What you can do to improve your credit score
Get a free copy of your credit report – Review your credit history regularly to make sure it's accurate and stay on top of any changes.
Always pay your bills on time – Payment history is one of the top factors in most credit scoring models and so will do a lot to improve your credit score over time.
Lower your credit card limits – A lower exposure to debt makes you a safer bet in the eyes of lenders. Consolidating multiple personal loans or credit cards can help too.
Manage your debt responsibly – Only borrow when necessary and when it works within your budget and ability to repay your debts on time.
An improved credit report may help you negotiate a better deal, especially with the increased competition in the market between lenders that will result from CCR. With more positive data now complementing negative data, it will be easier for lenders to tailor interest rates to individuals and potentially offer you better deals.
Want help finding out your credit score? Get Credit Score offers a range of ways to manage and improve your credit score.
 
Disclaimer: The information contained in this article is general in nature and does not take into account your personal objectives, financial situation or needs. Therefore, you should consider whether the information is appropriate to your circumstance before acting on it, and where appropriate, seek professional advice from a finance professional such as an adviser.