Back
6 Ways to Get Your Finances on Track for 2022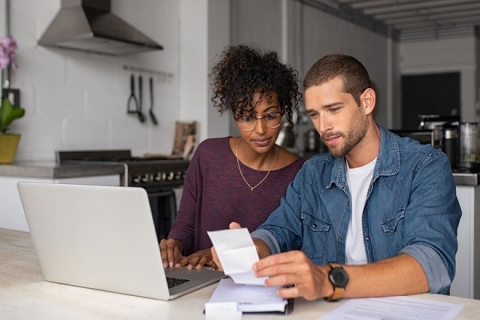 Got new year get-things-done energy? Use it to fast-track your finances. 
The start of a new financial year is always a great opportunity to look at what has been working for you and what could use some fine tuning. During these challenging times, getting better organised can give you a greater sense of control over your finances and start the new year on the right foot.
1. Take stock
The first step to staying on track in uncertain times is to understand the current state of your finances. Take some time to review your total income from all sources against your ongoing expenses and adjust your budget as needed. Think about your goals for the year ahead, remembering that financial goals aren't static and are likely to change year-on-year. Two years of living through a pandemic may have taken a toll on your finances. 
Is it time to reassess and adjust your goals and priorities? Moneysmart.gov.au offers good free information on investments, planning, budgeting and saving that can help if your circumstances have recently changed. You may need to think about how to reprioritise paying your bills if money is tight. 
2. Get organised
Don't leave it until tax time to discover whether you have an effective record-keeping system. Set up one now that you can easily stick to each month. The best system is the one that you will use, not necessarily the most complicated one. This could mean creating a spreadsheet in which to record and add up your deductions. Or, you could download one of the many apps available that let you store and scan receipts electronically and track your spending.
3. Survey your super
Given that your super is your primary source of savings for a comfortable retirement, it's important to review it annually to make sure it's setting you up properly for the future. Are you comfortable with where your superannuation is at for your age and plans in retirement?
Try an online superannuation calculator if you need help figuring this out. If not, could you be sacrificing more from your salary or making extra contributions if you are self-employed? Remember that super payments from your pre-tax salary reduce your assessable income, meaning that you may be able to pay less tax.
4. Seek out expert advice
Investing in a financial advisor can be an invaluable way to get advice and accountability, depending upon your individual circumstances, and there are free or low-cost options available too. The Australian government offers free financial information service (FIS) seminars across the country that can help you better understand your finances.
Free and confidential financial counselling services are also available through the National Debt Helpline and other community organisations if you are struggling.
5. Learn about your credit score
Your credit score is a key part of your financial health and we've made it easier to understand your credit score and improve your credit score. Become familiar with the key factors driving your credit score so you can stay on top of them. 
6. Get a free copy of your credit report 
If you haven't reviewed yours lately, now is the time to get a free copy of your credit score and see where things are at. It's always good practice to review your credit report before applying for any form of credit. From getting on top of your debt to understanding the difference between positive vs negative credit behaviours, there are many steps you can take to improve your credit score and prevent any long-term issues.
With these 6 key steps, your finances will be on track for 2022. Remember, every small action can make a big difference!
Disclaimer: The information contained in this article is general in nature and does not take into account your personal objectives, financial situation or needs. Therefore, you should consider whether the information is appropriate to your circumstance before acting on it, and where appropriate, seek professional advice from a finance professional such as an adviser.