Back
What Does a Credit Report Include?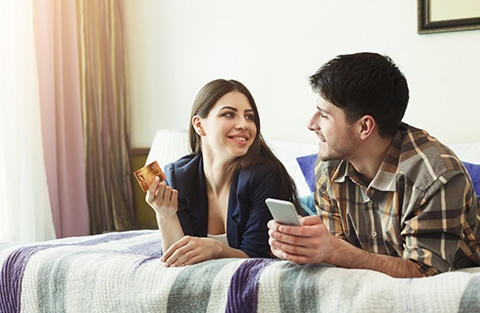 Instant Credit Report Australia
Taking control of your finances begins with getting your instant credit report Australia.
GetCreditScore is a leading online platform that can provide a snapshot of your Equifax Credit Report. We can also give you access to financial products and services tailored to your credit rating, such as credit cards, personal loans, car loans, home loans, business loans, and insurance. Sign up today to get a credit score check and a comprehensive picture of your financial standing!
What does a credit report include?
In Australia, a relatively new system called Comprehensive Credit Reporting (CCR) is in operation. It adds supplementary information to your credit report, including credit account history and repayment history, so that credit providers can get a clearer picture of your financial standing. Your instant credit report Australia can also contain other publicly available information, such as court judgements concerning debts and bankruptcies. Moreover, it provides personal information such as your age, address, and employment history since credit providers also use these to verify your identity. Your repayment history remains on your credit report for two years, while credit enquiries, defaults, clearouts, and court judgements stay for five years.
An updated credit report can help you stay on top of your credit accounts. Sign up today for a personal credit check and get a copy of your instant credit report Australia!
Why is it important to build a good credit report?
Your credit report is the first thing credit providers look at to determine if you are eligible for their products and services. It is also one of the factors they take into account when deciding what interest rate to charge you. If you have ever owned a credit card or taken out a loan, you are entitled to request a copy of your Equifax Credit Report.
GetCreditScore lets you sit back and relax while we handle all the heavy lifting for you. We can help you obtain your credit score in a few simple steps. Moreover, availing of our assistance does not impact your creditworthiness in any way. So sign up now and get exclusive offers on various financial products and services!
Comprehensive Credit Reporting (CCR) enables lenders to evaluate your financial standing with more information than what was previously available in your instant credit report Australia. It also drives market competition to give you more favourable interest rates and can save you money in the long run. 
The CCR system makes the following information accessible in your report:
Credit account history. This information refers to all your active accounts, the dates on which you opened them, and the maximum credit limit for each one. It also includes basic details like the names of the credit providers holding your accounts and their terms and conditions.
Repayment history. This data reflects the payments you have made for your credit accounts over the past two years. In addition, it outlines any delays or defaults in repayments you might have received, as well as the dates on which you paid them in full.
It is a good idea to have your credit score and credit report handy whether you are applying for a loan or seeking credit repair advice. A good credit score increases your chances of getting approved by credit providers like banks and lenders. There are other factors to consider, but a good credit history gives you a leg up when applying for a loan. Sign up with us to check your credit rating today! 
Here are a few simple tips you can follow to improve your credit score and instant credit report Australia:
1. Automate your repayments
Staying on top of your expenditures shows creditors that you are trustworthy. We recommend that you set up direct debits for your bills so that you never have to worry about overdue payments ever again. You can also set calendar reminders for payments in case direct debits are not feasible for you.
2. Minimise your debt-to-credit ratio
Make at least double the minimum payment for your credit card and loan debts to reduce your balances significantly. You should also work to pay off any outstanding loans and debts.
3. Avoid short-term unsecured loans
Try to limit your number of unsecured loans, including buy-now-pay-later services, as creditors can take them as indicators of financial stress.
4. Close inactive credit card accounts
You can improve your credit score by closing credit card accounts that you no longer use. 
5. Examine your credit report
Make sure your credit report is accurate and free of errors, such as a lender or debt that you do not recognise. It is crucial to address credit report errors immediately to maintain a decent credit score and avoid unnecessary costs.
How can I get an instant credit report?
If you ever owned a credit card or took out a loan, you can request this information from a credit reporting agency.
GetCreditScore can get an overview of your online credit score in just a few clicks. We serve as your Access Seeker to do all the work for you while you sit back and relax in the comfort of your home. Moreover, our service has no negative impact on your credit score. You can use the data available on your instant credit report Australia to assess your eligibility for personal loans, car loans, home loans, or credit cards. GetCreditScore can also give you exclusive offers on premium financial products and services. Sign up with us today!
---
Disclaimer: The information contained in this article is general in nature and does not take into account your personal objectives, financial situation or needs. Therefore, you should consider whether the information is appropriate to your circumstance before acting on it, and where appropriate, seek professional advice from a finance professional such as an adviser.