Back
Top 5 tips on car insurance - a MUST read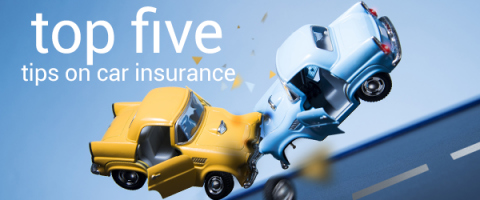 1. Get the right insurance for your needs and situation
On top of Compulsory Third Party cover, what level of additional cover do you need? Ask yourself:
If I crash into an expensive luxury car, will I be able to afford the repairs?

Is my car likely to be vandalised, broken into or damaged?

Can I get to work if my car is stolen or a write-off?
For many drivers, having (at least) third party property insurance is ideal because as it means you won't have to fork out thousands of dollars for someone else's damaged vehicle.  If your car value is higher, you may want to strongly consider comprehensive car insurance.  If your car is under finance, you may find that you must have comprehensive car insurance (your lender will clarify for you).
EXCLUSIVE DEAL: We've partnered with Budget Direct to unlock a 15% online discount on comprehensive car insurance. Get a quick quote now
EXAMPLE #1 - Richie's lack of insurance gets him into debt
Richie decided not to get any extra insurance on top of his CTP because his car was very old. A few months later, he hit a brand new sports car, which needed $20,000 worth of repairs. Because he was not insured for damage to other cars, Richie had to take out an expensive personal loan and work extra hours to pay off the debt over 5 years.
2. Be wary of insurance offered via a car dealer
Car dealers often get paid a commission of up to 70% for selling you add-on insurance policies. Because their level of commission is so high, the dealer might not provide you with a policy that is in your best interests.
Before you sign any contracts or agree to purchase any policies, check you really need the extra insurance.  If you decide to take out an add-on insurance policy, make sure it provides good value for the premiums you'll be paying.
3. Get an online discount where possible
There are many insurance companies around, offering all sorts of deals & discounts, but if you purchase your insurance online (no human interaction) then you should receive a discount, right?
We agree, so we teamed up with one of Australia's leading insurance providers to reward you with an online discount of 15% which includes a 21-day money-back guarantee.
4. Vary your excess
Your excess is the amount of an insurance claim that you have to pay when claiming.
When comparing the cost of different car insurance policies, weigh up the difference between having a high premium and low excess, versus the opposite. You may be able to save on your premium by increasing your excess.  See how increasing your excess can save you in a 2-minute quote.
5. Be honest with your insurer
You should always 'tell it like it is', as making an error in the information you give your insurer, whether it's deliberate or not, can affect the premium you pay. If you don't provide truthful information, the insurer could refuse to pay when you attempt to claim.
Don't forget - inform your insurer if your circumstances change. Like if you:
Modify your car (e.g. rims, tinted windows, woofers and kits)

Move house

Have additional drivers

Use your car for work
EXAMPLE #2: Brett's claim is rejected
Brett purchased a new car and took out comprehensive insurance, however shortly afterwards, he added a spoiler and lowered the car a little to enhance its appearance. When the car was damaged, his insurance claim was rejected because he had not informed his insurer of the changes.
Wrap Up
Selecting the right insurance for your vehicle is important and could save you lots of money if something goes wrong. At the very least, you should always consider getting third party property cover, so you don't end up with a big debt if you're in an accident.
Grab peace of mind and a 15% online discount by getting a quote in just 2 mins.
Disclaimer: The information contained in this article is general in nature and does not take into account your personal objectives, financial situation or needs. Therefore, you should consider whether the information is appropriate to your circumstance before acting on it, and where appropriate, seek professional advice from a finance professional such as an adviser.