Back
Keep up the good work: Monitor and secure your credit score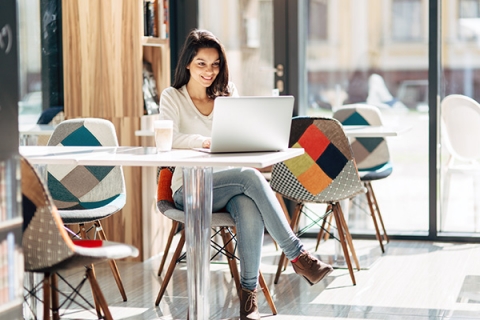 Keeping your credit score in outstanding condition can only benefit you.
Your high credit score is a great benefit, making many credit providers more likely to work with you and offering access to better interest rates, terms and conditions. If you play your cards right, that can mean having an easier time earning rewards points on premier credit cards, paying less interest in the long run and more.
With all of that in mind, it simply makes sense to keep up the good work. Continue to build your credit score and protect it from situations where it could drop. This includes instances of fraud, where your score can easily drop through no fault of your own.
Let's look at some of the problems that fraud can cause and, most importantly, how to prevent it with tools for monitoring and securing your score.
How fraud can drag down a great credit score
Fraud occurs when a criminal deceives someone for their own gain. Money is often a strong motivator to commit crime, so it's no surprise that fraudsters often target finances. They may try to uncover the username and password of your bank accounts to pilfer the money stored in them or open a credit card or similar account in your name, among other options.
These criminal activities can lower your credit score in a variety of ways. For example:
Accessing your bank accounts: A fraudster who illegally accesses your transaction or savings account and transfers money out of it can leave you without the funds needed to pay bills, potentially leading to a late payment or even a default.
Opening new credit lines: A criminal who secures enough of your sensitive personal information to open new credit cards may well max out the available credit and never pay the bill. With the card in your name, despite you having no prior knowledge of it, you'll eventually have one or more defaults on your hands.
Increasing number of credit enquiries: Even if a criminal isn't successful in opening new accounts under your name, the number of applications they submit under it could lead to an excessive number of credit provider enquiries that lower your score.
It's important to understand that very few, if any, criminals aim to lower your credit score when they engage in fraud. They're after money, and the harm to your credit score is simply collateral damage. It can cause a serious disruption to you and a huge setback in terms of all the effort you've put towards building a great financial foundation.
This distinction is crucial when making a plan to protect your credit score. You need to watch out for scams from the perspective of keeping your accounts, assets and sensitive information safe. When you're careful about access to that information and those resources, it also makes it more difficult and less likely for an act of fraud to harm your credit score.
How can I better protect myself against fraud?
To stay on top of potential issues tied to fraud and identity theft, you should:
Be careful with sensitive information
These quick tips can boost your defenses against fraud:
Avoid logging into sensitive accounts and sharing personal information when using unsecured or public Wi-Fi networks.
Don't offer too many specific, personal details on social media. Similarly, avoid responding to messages asking for this information.
Regularly update the software on your phone, computer and apps to help shut the door on cybercrime.
Use strong, unique passwords for each account. Opt for additional protection, like two-factor authentication, whenever available.
Pay attention to the warning signs
Moneysmart offered four warning signs of possible fraud related to your identity and your finances, including unusual charges on credit cards and bank statements, as well as phone calls from companies that indicate an existing relationship when you've never used their products. Also keep an eye out for emails and physical mail that indicate something similar.
If you can then confirm your identity was stolen, you should contact your bank and local police department, as well as change all of your passwords — someone with enough access to steal your identity might have passwords to other important accounts. You should also consider contacting IDCARE, a charity that can help you make a plan to deal with identity theft.
Use credit monitoring services
When you sign up for a free, secure account with GetCreditScore, it's that much easier to see unanticipated drops in your credit score and similar warning signs.
Equifax provides a variety of credit report monitoring and identity security products. Check out the details to see which option best suits your needs.
Your credit score is a valuable asset, giving you access to more options for securing credit, better interest rates and much more. Use this advice to help protect the investment you've made in building your score.
Protect yourself and your family from identity theft. Subscribe to one of Equifax's ID protection services starting from just $ 4.95 per month*.
* Prices accurate as of 27/04/22
---
Disclaimer: The information contained in this article is general in nature and does not take into account your personal objectives, financial situation or needs. Therefore, you should consider whether the information is appropriate to your circumstance before acting on it, and where appropriate, seek professional advice from a finance professional such as an adviser.