Back
Why Get a Loan from a Personal Loans Broker?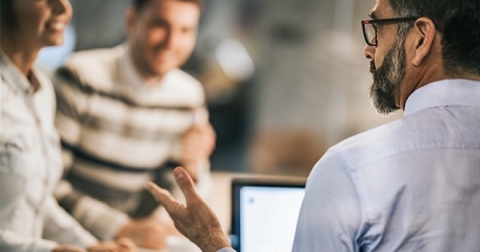 Paid Advertisement from MacCredit*
Where would you go if you were looking for a personal loan? The first place many of you think of is your bank. However, in recent years, answers to that question have become more diverse. As well as the big four banks, people are increasingly using personal loan brokers, smaller banks, non-bank lenders, and brokers.
As a personal loans broker ourselves, people ask us a wide range of questions about what we do and why a customer might choose to get a loan with our help.
What is a Personal Loans Broker and How do They Work?
Are You an Online Personal Loans Broker?
What is the Difference Between an Independent Personal Loans Broker and Personal Loan Lender?
What is the Difference Between a Personal Loans Broker and a General Finance Broker?
What is the Value of Using a Personal Loans Broker?
What Fees Do Personal Loans Brokers Charge?
Will Going Directly with a Lender Cost me Less?
What Can I Use my Loan for With a Personal Loan Broker?
Do You Work Similarly to a Mortgage Broker?
Do I Need to be Local to Your Office to Get a Loan Through You?
What is a personal loan broker and how do they work?
A personal loan broker is different from the actual lender.
Personal loan brokers work with a variety of lenders to help customers find personal loans suitable for their needs. Instead of applying for a loan directly with a lender, you discuss your circumstances with a broker. The broker then takes your details and matches you to a lender that is most suited to your loan application and will offer you an appropriate loan amount and interest rate.
Once a lender accepts your application, you become a customer of the lender.
We were a specialist medical loans broker until 2019 when we broadened our panel of lenders. We're now able to help our customers find a more extensive range of personal loans, including debt consolidation solutions and vehicle finance.
 
Are you an online personal loan broker?
Yes!
Our eligibility check, personal loan application, and sharing of any necessary documents can all take place online. If you require assistance at any stage, have any questions, or would prefer to take care of business over the phone, we have a small team of personal finance consultants awaiting your call.
 
What is the difference between an independent personal loan broker and a personal loan lender?
A personal loan broker isn't a lender. Brokers like us work with a select panel of lenders to help you find the best personal loan for your needs and financial circumstances.
The word "independent" is important here, too. You'll find that independent brokers have a sole commitment to find you the best possible personal loan deal. Oppositely, some brokers will push their customers towards loans from specific lenders, usually because they get a higher broker fee and profit margin from the lender.
With a lender, you apply directly for a personal loan and get a yes or no answer. Sometimes, you might apply for a personal loan with an attractive interest rate, only for the lender to offer you a less attractive loan.
With MacCredit, you learn the interest rate a lender will offer before the application is submitted with the lender, giving you confidence in the lender and personal loan product chosen.
 
What is the difference between a personal loan broker and a general finance broker?
A personal loan broker specialises in personal loans, while a finance broker may help you find personal loans on top of other products like credit cards and insurance.
If you're looking specifically for a personal loan, you may find a specialist personal loan broker can offer you better solutions than a finance broker with a general focus.
It is also possible to find personal loan brokers that specialise in specific loan purposes, like car finance and debt consolidation brokers.
While MacCredit is a general personal loans broker, this may be beneficial even if you're seeking a loan for a specific purpose. As we have a range of lenders on our panel, we might be able to find you a great loan deal from a general rather than a specialist lender.
 
What is the value of using a personal loan broker?
Applying for a personal loan via a broker can help you to access a wide range of loan options.
For example, when you apply for a personal loan with MacCredit, we'll provide you with a choice of suitable and available loans with varying repayment schedules from our panel of lenders.
Using a personal loan broker also means you can see what deals and interest rates are available to you without making multiple applications or having to navigate your way around a price comparison site. Personal loan brokers may also have access to specific interest rates or exclusive deals that lenders do not publicly advertise. You might even find an incredible personal loan deal from a lender you hadn't previously heard of!
When you apply for a loan directly with a lender, you'll either be told "no" or essentially get a "take it or leave it" offer should they accept your application.
 
What fees do personal loan brokers charge?
Personal loan broker's fees are the cost of their services, which are packaged up as a broker fee to get your loan approved and funded, promptly. It is incorporated into the loan and is only paid when your loan is approved and funded. Fees tend to vary from broker to broker and are generally dictated by the size of the loan.
If you didn't proceed with the loan, you wouldn't pay the fee.
 
Will going directly with a lender cost me less?
It depends on how you look at it.
If you have to pay a broker fee, your instincts probably tell you that you'll save money if you cut out the middleman and apply directly with a lender.
However, if a broker can help you to find lower interest rates or a more affordable repayment schedule, in the long run choosing a broker might be less expensive, even if you have to pay a fee.
The easiest way to work out the answer is to discover what broker fees you will have to pay and add them onto your total amount repayable and compare this to what you would repay if you found a loan directly with a lender.
 
What can I use my loan for with a personal loan broker?
It depends on the broker and whether they're a general broker, a specialist broker, and the types of lenders they work with.
If you choose to apply for a personal loan via MacCredit, we can assist you with a loan for any worthwhile purchase. Our panel of lenders may require some form of proof to show what you plan to use the money for.
You can view all worthwhile loan purposes from the menus at the top of the page.
We work with a diverse panel of lenders, meaning we can connect you with both specialist lenders who offer loans tailored for your purpose or general lenders. We'll always show you the best deals for you based on your circumstances and what you tell us about your needs.
 
Do you work similarly to a mortgage broker?
Yes!
The only difference is that instead of trying to find you the best deal on a home loan, we're trying to find you the best deal on a personal loan.
 
Do I need to be local to your office to get a loan through you?
No. You can complete the entire personal loan application process online. While we will need to speak with you on the phone initially, you usually won't need to meet anyone or visit a specific location to confirm your loan.
 
Getting a personal loan from a broker
If you would like to get started with a personal loan from MacCredit, you can now discover if you're eligible for a personal loan online.
For any further questions feel free to call MacCredit directly on 1300 884 355 or request a call back at a convenient time.
* This is a paid advertisement from WCF Medical Pty Ltd ACN 609 032 242 trading as "MacCredit" - Credit Representative 484002 is authorised under Australian Credit Licence 389087.
Disclaimer:
GetCreditScore acts only as a credit intermediary and does not provide personal financial, legal or tax advice, or credit assistance of any form. Any content featured here is of a general and informative nature only and does not take into account your personal objectives, financial situation or needs. You should consider your needs, along with the product's terms and conditions before making a decision; and where appropriate, seek professional advice from a finance professional such as an adviser. We do not accept any liability in respect of any product or service which you elect to acquire from any provider.
Any views expressed in this article is that of the author and is not endorsed by GetCreditScore.