Back
Impact Of Comprehensive Credit Reporting - Credit Score Averages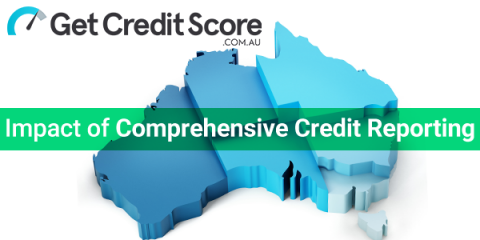 Equifax has released their findings on the Comprehensive Credit Reporting (CCR) data supplied to date to give an indication of how the industry is progressing and to help break down the key attributes and benefits of the new data. We've pulled out some of the key points we thought you might be interested to know, as they may impact you.
Key Points:
40% of the retail credit market have supplied CCR data to Equifax.
7.3 Million Australians now have CCR data in their report. 

1.5 Million individuals who previously had no credit history, now have a credit history thanks to CCR data.

CCR data has revealed a direct correlation between risk and number of financial institutions held, where credit risk doubles for those with two lending relationships and triples for those with three.
 A number of individuals who were previously identified as high or medium risk are now considered "low risk" because of CCR data.

i.e, 6,500 Australians who previously applied for an auto loan were high or medium risk are now "low risk". Additionally, close to 9,000 Australians who previously applied for a credit card and were considered high or medium risk are now "low risk".

Based on Equifax's data, the average credit score (Equifax Score) of Australians applying for credit (within the last 3 months) has increased across Auto Loans, Credit Cards, Mortgages and Personal Loans with CCR data. See the graph below for the full details and breakdown.
Remember that only 40% of the retail credit market have supplied CCR data to Equifax, so you may still see a change in your credit score over the coming months as more data is added. Overall, CCR has already started to have a positive impact on the industry with over 1.5 Million Individuals now having a credit history where they didn't before, additionally a number of individuals are now considered "low risk" where previously were considered higher. We will continue to keep you up to date as CCR reaches full strength.
How To Find CCR Data In Your Credit Report
If you would like to see if any comprehensive credit data has been added to your report on accounts like credit cards, home loans and personal loans etc you can get your credit report directly from Equifax here. To identify CCR data on your report, you should look for the following information:
Credit account history: 

Type of credit account (credit card, personal loan etc)
Date the credit account was opened
Current credit limit
Account closed date

Repayment history: your loan repayment history over a period of 2 years (24 months) including any late or defaulted repayments you may have received and the date you paid the default in full.
Disclaimer: The information contained in this article is general in nature and does not take into account your personal objectives, financial situation or needs. Therefore, you should consider whether the information is appropriate to your circumstance before acting on it, and where appropriate, seek professional advice from a finance professional such as an adviser.