Back
How to Get a Home Loan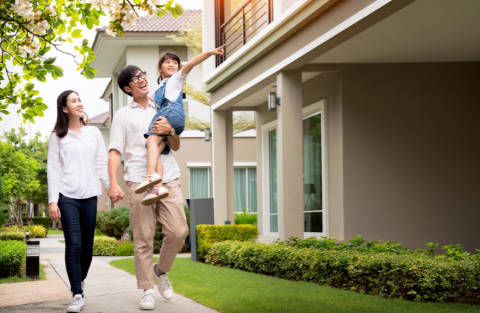 If you dream of owning a house but lack the finances to make it a reality, learning how to get a home loan is an excellent starting point. Taking out a mortgage is a significant milestone that you should not take lightly, and your credit rating can make or break your chances of approval.
GetCreditScore can help you evaluate your eligibility for a home loan. We can get you a copy of your credit score and credit report overview to guide you in this important undertaking.
Our sign-up process takes minutes so that you can start reviewing your file right away. Moreover, our members get exclusive access to special offers on home loans, personal loans, car loans, and credit cards. Sign up today and start figuring out how to get a home loan!
What is a good credit score for a home loan?
Australia has no shortage of credit providers that offer home loans – from banks and credit unions to alternative lenders. Your credit score is the first thing these financial institutions consider when assessing your eligibility for, say, home loan requirements. These creditors want to gather everything they can about your financial standing to determine your borrowing capacity, and they get this information from your credit report.
Equifax uses proprietary algorithms to interpret this data and generate your credit score. The higher your credit score, the better your chances are of securing a home loan. Still, it is also worth noting that there are lenders who specialise in mortgages for below-average credit score holders, especially for those seeking a home loan with bad credit.
No idea how your credit score stands? We can help!
GetCreditScore can obtain your credit rating in minutes. Sign up now and learn the intricacies of how to get a home loan!
The following are some points you can keep in mind once you determine your credit score. Take note that these are approximate ranges, as lenders often have their own scale that they reference.
Below Average (0–459): Many traditional credit providers would consider you a high-risk borrower if your score is in this range. However, you can still consider applying for a home loan from alternative lenders if you can handle the interest rates.
Average (460–660): An average credit score is typically indicative of negative marks on your credit report. That means lenders may require you to provide additional documents to get approval. 
Good (661–734): A good credit score gives you a better standing with credit providers than the average credit report holder. You are more likely to get approval and may even be entitled to more favourable interest rates. 
Very Good (735–852): If you have a very good credit score, you belong in the top half of eligible consumers in Australia. That means most lenders would be glad to offer you a mortgage.
Excellent (853–1,200): An individual who holds an excellent credit score is a dream client for any credit provider. You would be considered an extremely low-risk borrower, so you should have no difficulty getting approval for a house loan. 
If you have a modest credit rating and want to increase your chances of approval, here are a few tips to improve your credit score:
1. Automate your repayments
You should stay on top of your credit repayments to show lenders that you are trustworthy when it comes to house financing. You can set up direct debits or set calendar reminders to ensure that you never miss a payment again.
2. Minimise your debt-to-credit ratio
By spending well within your credit limits, and paying off your balances regularly, you can reduce your debt-to-credit ratio and improve your credit score.
3. Examine your credit report
You should ensure that there are no errors on your credit report, such as a lender or debt you do not recognise. If you find a suspicious entry, contact the listed credit provider immediately to address the issue.
The approach to credit scores between states is similar, but it is generally riskier for credit providers to offer home loans in states experiencing declines in housing prices. That means a good credit score in one state may not necessarily be a good credit score in another. In any case, the first step in understanding how to get a home loan is to know your credit score. Sign up now!
What is the maximum amount I can borrow with a home loan?
There is technically no limit to how much you can borrow for a home loan lending. However, the amount is based on your annual income, living expenses, credit accounts, savings history, and marital status. It's important to only borrow as much as you can afford to pay comfortably to avoid getting into repayment trouble. But a healthy mortgage with a consistent payment record is a great way to build a good credit file. We recommend that you speak to different credit providers to see which ones offer the best deals. 
How to apply for a home loan?
The first thing you should do is prepare all the necessary documents for application, including valid identification, proof of income, and savings. You should also prepare an inventory of your current assets and liabilities. In some cases, a lender may ask you for an exhaustive list of your monthly expenses on groceries and utilities to get a picture of your disposable income.
But before applying for a mortgage, go to GetCreditScore can give you access to special offers on home loans from some of the most reputable providers. We strive to provide you with the best financial products and services to make sure you achieve your ambitions in life. So sign up today, and let us help you figure out how to get a home loan!
---
Disclaimer: The information contained in this article is general in nature and does not take into account your personal objectives, financial situation or needs. Therefore, you should consider whether the information is appropriate to your circumstance before acting on it, and where appropriate, seek professional advice from a finance professional such as an adviser.