Back
COVID-19 and the Property Market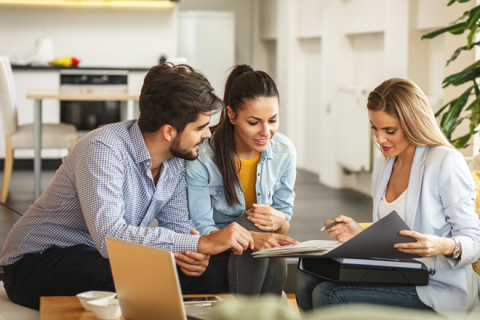 Like so much else in our lives, COVID-19 has upended the Australian property market, from how auctions and inspections are held to lower stock levels and a changing rental market in a climate of economic uncertainty.
In March, the Reserve Bank of Australia (RBA) announced unprecedented stimulus to help support businesses and households through the economic downturn caused by the coronavirus pandemic. The RBA cut the cash rate cut from 0.75 per cent to 0.25 per cent, along with a commitment to not increase it until the economy has recovered.
 
Help for first home buyers
First-home buyers who are in a financial position to buy may find it a good time to get a foot on the property ladder, thanks to the historically low interest rates, a softer market, and a range of government stimulus packages.
Note that the following schemes vary by state and territory and conditions are changing rapidly. Check your state government's website for current information or visit the Australian Government website for the latest updates and advice related to COVID-19 from government agencies. 
First Home Buyer Assistance Scheme
If you're a first home buyer, you may be entitled to a concessional rate of transfer duty (also known as stamp duty), or even an exemption from paying it altogether, under the First Home Buyers Assistance Scheme (FHBAS). This scheme varies by state and territory so check your state government's website. For example, you canfind information for NSW here and Victoria here.
The First Home Owners Grant (FHOG)
This grant is designed to help buyers across Australia make their first purchase. Under the scheme a one-off grant is payable to first home owners who meet eligibility criteria. These criteria, and the size of the grant, vary by state and territory, but it generally applies to first-time property owners who are either purchasing an existing home that has never been lived in or building an entirely new home. Find out more at firsthome.gov.au.
First Home Loan Deposit Scheme (FHLDS)
Launched on 1 January 2020, under this scheme, the Australian Government will guarantee to a participating lender up to 15 percent of the value of the property purchased that is financed by an eligible first home buyer's home loan, for eligible low and middle-income earners who have saved up a deposit of as little as 5% of a property's value. This can help these borrowers avoid the cost of Lender's Mortgage Insurance (LMI), which can be expensive. This scheme can be used with other state and territory grants, as well as any incentive your home loan provider may offer first home buyers. Find out more here.
First Home Super Saver Scheme (FHSSS) 
This national scheme allows first-home buyers to save money inside their superannuation fund to accumulate a deposit faster. First-home buyers can make up to $30,000 in voluntary contributions to their superannuation fund to save for a home, with a limit of $15,000 per financial year. Voluntary contributions are taxed at a lower rate compared to income, allowing first home buyers to save faster. Applicants can also access any earnings on their extra contributions. Find out more here.
Upgrading, building, renovating and refinancing
The current market conditions may also present opportunities for existing homeowners with weaker prices in some areas and possibly less competition.
If you are unhappy with your current interest rate from your lender, it could be a time to think about refinancing, as rates have never been lower and there are many options from lenders. If you're looking to refinance it's always a good idea to check your credit score first and make sure there are no issues that may prevent you getting the refinancing you need.
HomeBuilder Grant
The federal government is offering owner-occupiers a $25,000 grant if they are building new homes valued up to $750,000, and for renovations valued between $150,000 and $750,000 for an existing home with a current value of no more than $1.5 million. This scheme, which currently ends on 31 December 2020, is available for all eligible owner-occupiers, not just first-home buyers, and can be used in conjunction with federal first-home buyer schemes and existing state schemes. Find out more here.
Auctions and inspections
COVID-19 has changed the very way that real estate operates, with early COVID-19 restrictions on auctions and viewings fast tracking technology such as online auctions and private inspections via video streaming. While restrictions have eased in most states and territories currently, social distancing is still required at auctions and inspections, and technology can provide a more COVID-safe way of buying property, particularly for those at high risk.
The rental market
According to a report by the Real Estate Institute of Australia (REIA), published in September 2020, rental housing nationwide is the most affordable it has been since 2007.
Realestate.com.au says that the dynamic has shifted in favour of renters, thanks to reduced rental demand. This is due to a combination of closed international borders and young renters, who have been disproportionately affected by COVID, being forced to move home or seek cheaper accommodation. Not to mention, growing unemployment across demographics. With eviction bans for those impacted by COVID having run out (with the exception of Victoria), the rental market could be in for more turbulent days ahead.
Applying for a loan
If you are thinking about buying, know that it may be harder to get a loan right now, with banks being more conservative in the current economic climate. In addition to your deposit, you'll probably need secure employment, a record of genuine savings, and a good credit history. Consider also growing your financial safety net before you buy, in case your circumstances change. 
Looking forward
In the early days of COVID-19, initial forecasts for property price drops ranged from 10 per cent to 15 per cent. To date, drops have been significantly less than first anticipated – falling just 2 per cent nationally in the June quarter, according to the Domain House Price Report.
However, falls in property prices have so far been cushioned by federal government stimulus payments and mortgage holidays on offer from lenders. With Australia now officially in its first recession in thirty years, the market may have further to fall.
Australia's largest home lender, the Commonwealth Bank of Australia (CBA), forecasts a 6 per cent fall in capital city property prices before a recovery in the second half of 2021. However, the bank warns that Melbourne property values will fall twice as much as the national average.
ANZ Bank expects national house prices to fall by 10 per cent for Sydney and Melbourne, with smaller falls in Hobart, Brisbane, Adelaide, Perth and Canberra.
However, if we've learnt anything about COVID-19, it's that conditions can change rapidly, and it's hard to know for sure what the future holds. It's always wise to get professional advice and make decisions based on your personal circumstances. 
 
Making sure your Credit Score is healthy could help you shine in front of lenders. That's why it pays to get your FREE Credit Score through us, so you'll know how lenders could see you. Checking your Credit Score is easy – It takes less than sixty seconds and it won't affect your credit file plus it may help boost your borrowing potential and help you get a better deal.
Disclaimer: The information contained in this article is general in nature and does not take into account your personal objectives, financial situation or needs. Therefore, you should consider whether the information is appropriate to your circumstance before acting on it, and where appropriate, seek professional advice from a finance professional such as an adviser.