Back
3 Reasons to Get a Loan Via a Broker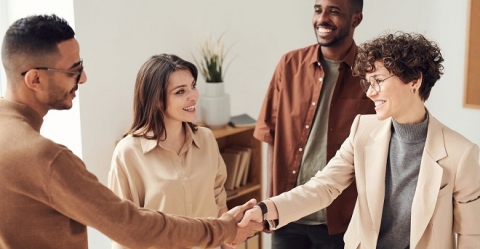 Paid Advertisement from MacCredit*
Get help with your personal loan requirements.
Instead of going straight to your bank or another lender, you could consider getting a personal loan via a broker.
A broker gets to know your personal needs and circumstances, then evaluates which personal loan product will best suit you. Brokers then work with a panel of reputable lenders to get your loan application processed efficiently.
Read on to find out three reasons why getting a loan via a broker is a useful solution.
 
Access to a variety of fee amounts and terms
Brokers allow you access to a variety of lenders, with varying interest rates, loan terms and maximum loan amounts.
Access to a variety of reputable lenders could mean you also get a better deal:
A lower interest rate.
Lower fees, as the broker can choose lenders based on their fee schedule.
You find loans with useful features that make repaying easier.
The broker will choose loans with the best terms and conditions to suit your financial situation.
They'll also try to make sure your application doesn't get sent to a lender that is likely to decline you.
 
You can receive extra advice
Sometimes it pays to talk to an expert. If this is your first-time seeking finance, the time needed to get up to speed with the industry and what different terms mean might feel overwhelming.
Talking to a broker can help you get fast and accurate answers to all the questions you have.
 
You lower the risk of damaging your credit score
Did you know that every full application you submit to a lender is recorded on your credit report?
Did you also know that multiple credit enquiries in a short amount of time can lower your credit score (depending on the system the lender uses)? This can increase your risk of being declined by a lender and make it more challenging to get the best deals when looking for a loan.
Many Australians aren't aware of this, and apply to 10 to 20 different lenders, only to be declined and suffer financially as a result.
Brokers save you the hassle, only sending your application to lenders that suit you and that are likely to approve you.
 
Things you need to think about before getting a broker
The positive reasons to get a loan via a broker assume that you are going to find a great broker.
What should you consider when looking for a broker?
That they have your best interests at heart. You might be searching for a personal loan to repay over seven years. Naturally, you want a personal loan deal that's going to stand the test of time. However, a broker may be more interested in just getting you a loan, regardless of your circumstances.
You may not always be getting the best deal. Some brokers may have preferred lenders and recommend specific personal loans. After all, how do you know if your broker is telling you about every available loan?
Not all lenders work with brokers. Like price comparison sites, a broker won't be able to connect you with every possible lender. While you're getting access to a broader cross-section of lenders than you might otherwise, you won't see deals for every bank and other lenders out there.
You will have to pay broker fees. Your comparison rate will often include broker fees, which the lender then disburses directly to the broker when your loan settles. However, sometimes you may have to pay an additional fee to a broker.
 
Finding a good broker
It pays to do your research. Check what people say about various brokers on customer review sites like Trustpilot to get a real feel for their expertise and level of service.
Getting a personal loan doesn't have to be a long and stressful process! Choose to use a personal loan broker like MacCredit and enjoy the many potential benefits of doing so.
If you're looking for a personal loan, MacCredit may be able to help. They have access to a panel of reputable lenders and can help you find the right personal loan based on your circumstances. Discover if you're eligible for a loan and find out how MacCredit can help you.
* This is a paid advertisement from WCF Medical Pty Ltd ACN 609 032 242 trading as "MacCredit" - Credit Representative 484002 is authorised under Australian Credit Licence 389087.
Disclaimer:
GetCreditScore acts only as a credit intermediary and does not provide personal financial, legal or tax advice, or credit assistance of any form. Any content featured here is of a general and informative nature only and does not take into account your personal objectives, financial situation or needs. You should consider your needs, along with the product's terms and conditions before making a decision; and where appropriate, seek professional advice from a finance professional such as an adviser. We do not accept any liability in respect of any product or service which you elect to acquire from any provider.
Any views expressed in this article is that of the author and is not endorsed by GetCreditScore.