Back
Take charge of your financial wellbeing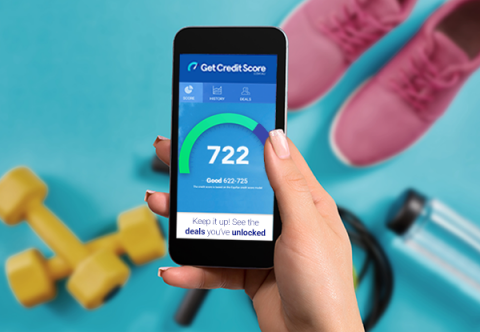 Knowing what's in your credit report and what it's used for is a key measure of your financial health.
With the recent changes to Comprehensive Credit Reporting (CCR), it's a perfect time to get your head around your credit history and give your financial health a boost.
 
How well do you know what's in your credit history?
According to research by Equifax1, almost half (47%) of Australians admit that they know more about the latest television programme, their favourite sports team, politics, or their partner's finances than they do about their own credit history. It's an alarming statistic, because understanding your credit score, what it's used for, and how you can work to improve it, is key to maintaining your financial well-being and achieving future goals.
 
What is your credit score is used for?
When asked which of twelve options their credit score could be used for, only 9% of the Australians surveyed by Equifax were able to correctly identify all seven of the true answers. But many were aware that their credit score plays an important role in the following life events:
Getting a home loan (72%)
Getting a personal loan/credit card (70%)
Getting a car loan (65%)
Obtaining a low-interest rate or better deal (52%)
On the flip side, many Aussies are apparently less savvy about how their credit score could affect the following:
Turning on utilities in an apartment/home (21% were unaware)
Applying for interest-free finance loan on white goods (39%)
Getting a mobile phone contract (32%)
Some people also incorrectly thought that a credit score could be used to help them rent an apartment (34%).
Understanding how your credit score affects you, including the difference between positive and negative credit behaviours, is a great place to start improving your financial health. This way, you can start increasing those behaviours that help (like paying your bills on time) and reduce those that cause harm (such as making too many credit applications or defaulting on debts).
 
Boost your financial fitness today
These days, most of us take regular measures of our physical fitness, from logging our daily steps with a Fitbit or recording our caloric intake with MyFitnessPal. Tracking your financial fitness is just as important.
The following are three key measures of financial wellness.
Block some time out on your calendar now to assess where you stand and if there is room for improvement.
Emergency savings buffer – Do you have at least three to six months living expenses stashed away in case of emergency? If not, aim to save up at least one month's worth and build up from there.
Debt-to-income ratio – Add up your minimum monthly debt payments and then divide the sum by your gross monthly income to calculate your debt-to-income ratio. Around 25% is a good goal to aim for. If yours is much higher than this, it's time to start taking your debt seriously. Make a list of all your debts in order of which have the highest interest rates, and then work your way down from top to bottom.
Your credit score – A high credit score generally indicates a lower risk and can translate into many benefits, such as lower interest rates on mortgages for instance. Only 20% of Australians have accessed their credit history (report or score) within the last 12 months, and only another 19% have accessed a longer time ago. More than half (61%) have never accessed their credit history. 1
Knowing your credit score is a key part of staying financially healthy. That's why it's a great idea to regularly monitor your credit score for FREE.
Want a more detailed view of your credit history? You can also request a free copy of your Equifax credit report for free (if eligibility criteria met).
Disclaimer: The information contained in this article is general in nature and does not take into account your personal objectives, financial situation or needs. Therefore, you should consider whether the information is appropriate to your circumstance before acting on it, and where appropriate, seek professional advice from a finance professional such as an adviser.
1 Report: Equifax – Credit History. Study was conducted on the YouGov Galaxy Online Omnibus between Thursday 30 August to Monday 3 September 2018.  The research sample comprised 1,027 Australians aged 18 years and older distributed throughout Australia.