Back
Does your Credit Score vary among providers?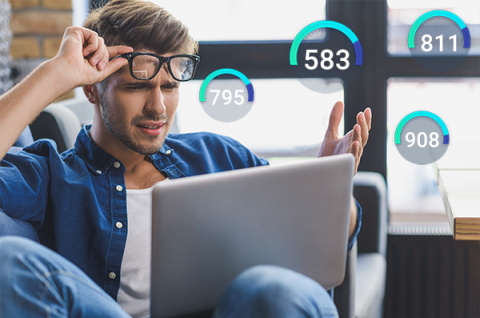 Your credit score may vary from one credit provider to another. Here's why.
When it comes to numbers that can affect your financial well-being, one figure stands head and shoulders above the rest: your credit score. This one little number may have an impact on your ability to tackle major life goals, from getting a credit card to applying for a home loan or even certain jobs. Given how important your credit score is, it can be confusing to discover that it can change depending upon the credit product or provider requirements, or the credit reporting body (CRB) calculating it.
Why you can have different credit scores
There is no industry standard for credit scores. The credit score that an individual can obtain from one CRB will differ to that obtained from others, and may also differ from scores generated in-house by credit providers.
CRBs arrive at your credit score based on the information they have at that point in time, applying their own proprietary algorithms to generate their score. Credit providers often consult one or more CRBs to help them decide whether to provide a loan or other credit to you. There are a number of reasons why your credit score may vary, including:
The information the CRB has ultimately, a credit score that is as accurate as the information it is based on.
Credit scores are dynamic and dependent on the time and circumstance in which a score is calculated - the reason the score is requested and the precise information on an individual's credit file at the time the score is calculated will cause the score to vary over time, even within one CRB.
Your relationship with the credit provider
Where the credit provider relies on scores from one or more CRB's, your credit score should not necessarily change dramatically. However, your relationship with a credit provider is important as part of their overall credit application and approval process. That credit provider can use the additional information as part of their lending assessment, and the fact that you have made the credit application will be factored into the CRB data.
The criteria and method used  
CRBs calculate scores using their own mathematical formulas and benchmarks. This means that your score could change over time if the formula used to calculate it changes, or as new data is added. An example of this is when credit scores transitioned from negative to positive (comprehensive) credit reporting. As of 1 July 2018, recording positive credit information on your credit history became mandatory for all credit providers.
While the Privacy Act legislates what information can be used and how, financial institutions use their own proprietary systems and criteria when performing credit assessments. This means that knowing your credit score with one financial institution can only serve as a guide for others, as many credit providers will also use their own internal algorithm in combination with a credit score from a CRB.
 Fixing your credit score
Mistakes can also happen in the reporting process that lead to consumers unfairly being denied credit due to having a lower credit score than they should, which is why it is so important to know what's in your credit report. For example, you could discover that an old debt, which has since been repaid, is still listed as unpaid. If this happens, rest assured that there are steps you can take to fix it.
Knowing the score 
With more than 16 million active consumer credit files, Equifax is Australia's leading credit information company and is widely used among Australian lenders. The Equifax Score is calculated using information from the most comprehensive and current credit data sources in Australia. That's why at GetCreditScore we use the Equifax Score.
While different credit providers may arrive at your credit score somewhat differently, the fundamentals of how your credit score is calculated remain the same. Ways to maintain a good credit score include always paying your bills on time, only applying for credit when you really need it, and regularly reviewing your credit report.
Knowing and understanding your credit score is an important part of staying on top of your finances. Your credit score is what some lenders may look at when deciding if you're a good loan risk. Make it a habit to monitor your credit score for FREE regularly.
 
Disclaimer: The information contained in this article is general in nature and does not take into account your personal objectives, financial situation or needs. Therefore, you should consider whether the information is appropriate to your circumstance before acting on it, and where appropriate, seek professional advice from a finance professional such as an adviser.
REFERENCES
Your Personal Credit Score: What You Need to Know. Source: choice.com.au
https://www.choice.com.au/money/credit-cards-and-loans/personal-loans/articles/credit-scores#score-accurate