Back
Are you dating a credit dud?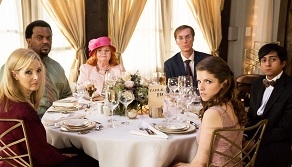 Talking about money is a lot like being stuck on table 19 at your partner's cousin's wedding. Or, to put it simply, it's uncomfortable at best.
But as they say, getting outside your comfort zone can help you grow and make you stronger. When it comes to a relationship, no words are truer.
I recently caught up with a friend for dinner. She has been with her partner for a while and the relationship is clearly turning into something more serious, something long term.
He enjoys the finer things in life; a real entrée, main and dessert kind of guy with a quick draw on the plastic. They've decided the time has come to move in together, but she has one hesitation… is she dating a credit dud?
It may sound harsh, but she's certainly not alone. In fact, 66% of respondents to a recent Get Credit Score survey agreed that their partner's financial habits are an important factor in a relationship.
It's a hard to disagree with the consensus.
Consider joint loans for a second. Whether it's a $433,000 home loan* or a $4,300 credit card**, if you sign your name on the dotted line then your financial habits will be taken into consideration alongside your partners.  
Keep in mind, a joint loan does not mean you're responsible for half the debt. If your partner defaults, you may be liable for the whole amount, including fees, interest and charges.
"1 in 3 people would rather bury their head in the sand and avoid having an honest conversation about money with their partner"
The same logic can be applied to utility bills, rental agreements, phones plans… the list goes on.
So while most of us agree that our partner's financial habits are important, it doesn't change the fact that money is an uncomfortable topic to broach.
Approximately 1 in 3 people would rather bury their head in the sand and hope for the best, then sit down and have an open and honest conversation with their significant other.
But this strategy will only get you so far… If you're serious about your relationship, then it's time to rip off the band-aid and get the conversation flowing with these three questions:
Where is this relationship taking us? Is marriage something you wish for in the future? Perhaps you'd like children one day, or maybe homeownership is important? All of these big life-stage events require careful consideration and the money to go with it.
 
Do we have enough money to achieve our goals? Whether you have a joint account or like to keep your money separate, it's important to take stock of how much money you have coming in vs. how much money is going out.  Be sure to consider any assets or debts either of you may have.

Bonus Tip: There's a simple way to better understand your own and your partners credit position. Check out your credit score. Your score is a number between 0 – 1200. The higher your score, the better you are at managing your credit commitments.  

Where can we cut back on our spending? Now that you know your joint income and expenses, it's to time to cut away the loose ends. Review your credit card and bank statements to see where your money is going. Look for quick wins, like a gym membership that never gets used. Review all outgoings annually, and get a better deal where you can - click here to get started today!
* The average home loan value in NSW, March 17 – ABS.
** The average debt per credit card holder – MoneySmart